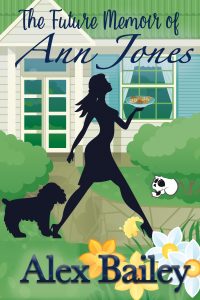 When the perfectly-normal Ann Jones rants on about a bizarre and hauntingly immersive vision into her own future, her best friend, Alex, thinks she may have taken a swig or two.
After her freak encounter, Ann recounts the strange and foreboding glimpse of her future life—one that holds an unanticipated exuberance: her beloved husband dies suddenly (and questionably); she moves to the East Coast; finds love again; joins a peculiar knitting club (full of the strangest assortment of women, none of whom actually knit, but all of whom follow cult-like rules—such as, "What Happens in Knitting Club Stays in Knitting Club"); and becomes deliriously happy.
Her whole recollection leaves Alex's head spinning with one question—has her friend totally lost it? How could anyone be deliriously happy about joining a knitting club? But when Ann presses Alex for an answer about what to do with this "future life vision experience", Alex must decide whether this strange anecdote is just a desire to be free from Ann's humdrum existence or a self-fulfilling prophecy. Should Alex support her friend's "new life" or warn Ann's husband about his impending doom…
Targeted Age Group:: Adult
What Inspired You to Write Your Book?
My friend, Ann Jones inspired it. As I reveal in the book, she described every detail of this mysterious future vision of hers. I didn't figure out what was actually happening until the end of her story. And then I had a decision to make. But, well, I don't want to ruin anything for the reader, so I'll leave it at that.
[Read more…] about The Future Memoir of Ann Jones by Alex Bailey